If you are a pivot table lover, He is the person who has most romantic pivot table online course.
He has the most comprehensive Pivot Table course. It has over 200 short video tutorials and explains every feature in a Pivot Table.  This course will take you from an Excel beginner to an expert in a matter of weeks.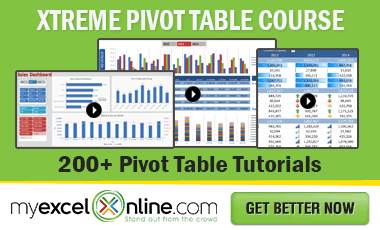 ---
Let's catch some awesome tips from John.
What is the future of Microsoft Excel as a Spreadsheet program?
With the introduction of Microsoft´s Power BI suite (which includes Power Query, Power Pivot etc.) you will be able to connect to your company data seamlessly, analyze and create interactive dashboards which can be shared with fellow colleagues. The following months the same process can be done with a couple of clicks, saving lots of time and effort!
MS Excel can connect to web pages, ERP systems, and various cloud BI tools, like Salesforce, and will continue to develop the compatibility with most big data analytic companies.
MS Excel will be the go to software to analyze, chart and tell a story about your business, spotting trends, risks and finding opportunities….all in one place.
Tell Us Something about your Podcast Sessions
These are fun to do and record and I should have started a long time ago!
I started this podcast in June 2015 to interview fellow Excel experts and MVPs so they can share their Excel expertise and insights with the rest of the world.
These experts have so much experience and tips that I wanted a way for them to share & teach an Excel beginner or intermediate user the possibilities with Excel.
Podcast are huge right now and it is a great medium to share knowledge and consume whilst in transit to work or whilst you are working out.
What is your Million Dollar Advice To PivotTable Lovers
Put your data in an Excel Table!
Do you think PivotTables are best fit for Dashboards
Of course, they are! Due to their flexibility and ease of data update, they are a must when you are creating Dashboards.
At least one metric should come from a Pivot Table and the Slicers allow you to make the Dashboard interactive!
What is the most festive movement of your blogging age?
When a reader emails me saying that my blog and weekly Excel lessons have helped them to complete a task or create a report that has wowed their boss, then it makes my day and gives me satisfaction in that my work is impacting people in ways that I could never imagine.
---
Find John on Social Media
Visit My Excel Online
My Excel Online Blog | Podcast
Courses On MyExcelOnline

---
Amazing Tips John, I want to thank you for sharing this awesome stuff.
Hey Friends, Now it's your turn to pull up some questions. Ask your questions in the comment box below.
I hope this will help you to drive your skills to the next level.
I'll try to catch an Excel Expert on next week for you.